Will Milo Yiannopoulos Shake Up European Startup Press?
I can't wait to see what this produces.
The saucy and often controversial Milo Yiannopoulos, who I've heard some call Europe's one-man Gawker media, just penned an a post declaring its time to fix European tech journalism, and also noted he will retire from writing the fluffy stuff he's been producing lately in favor of more substantive pieces in the future.
This echoes the sentiment of conversations ever since Michael Arrington left TechCrunch, and I think this emerging trend is about more than European media. Â The conversation is about what changes need to happen when it comes to startups storytelling as a whole, particularly in places like London where the trend for company creation is currently up and to the right. Â I think Milo puts it quite well when he says:
Start-ups have become conditioned to this cult of the mediocre, but it's time to snap them out of it. Entrepreneurs who aspire to refashion the world around them deserve writing just as audacious and thought-provoking as their own ambitions. Unfortunately, as the technology sector in Europe has expanded, the quality of commentary around it has failed to keep up.
While Milo can't save startups from their own PR, I hope we will see more compelling untold stories unearthed with this new project. Â Maybe I'll even contribute, and help startups discover how to make meaningful connections with the press. Â What will you contribute?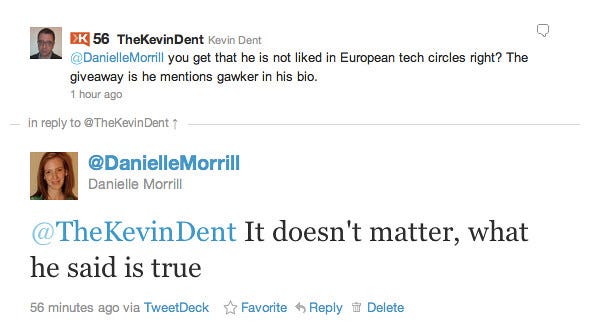 More discussion of this topic from:
What Europe really needs is startup reviews. And good startup reviews, not rehashed press releases. Frequent ones: three or more per day. Tell me about the team, the tech, the traction. Make me understand market size, competitive landscape, go-to-market strategy, unit economics, capital intensity, and the strategic importance of this widget in a likely future stack.

Crunchbase is probably the most undervalued of Techcrunch's assets. It's the go-to database for startup financing information in the entire industry. It's more complete and fresher than VentureSource or Capital IQ. I am glad it has been getting some love lately.
I'd like to see a blog really getting into the soul of the space and people behind it, with real insights into how things work. "teardowns", case studies, documenting specific points in a startup's life, summarising where vc's and entrepreneurs think the opportunities are, successes, failures, learnings.. What's going on with MyDeco, Keynoir, MoshiMonsters, Kopi, Unbound, BookingBug, Moo, Skimlinks, huddle etc.. where are the real interesting pieces?

Oh, and can we PLEASE stop going on about Silicon Roundabout - it's NOT going to be the mecca where everyone wants to go and work. If I wanted to work by a tacky roundabout full of rubbish and kebab vans then I would have looked for an office in Basingstoke!