Thank you Readers! 7 Months In, ATAD Portfolio is +63% and the Newsletter Generates $22K ARR
Welcome to A Ticker A Day, with your host Danielle Morrill. This is a newsletter and podcast where I share my journey to analyze every underlying company in the Vanguard Total Stock Market Index Fund ($VTSAX), in alphabetical order, and make a decision to invest $10 in the index or the company. If you like what you read here, please consider giving a gift subscription.
---
Thank You Readers!
It's been 7 months since I started this newsletter, and I want to say thank you so much to all my paying subscribers and free edition readers! From launch at the start of January to today, annual recurring revenue has grown from $0 to $22K. On average, each paid post takes 2 hours to write and adds $450 of new ARR.
The message is clear: to keep growing this newsletter I just need to keep writing. Thank you for reading, and for the continuous feedback on how it can improve.
My goal has been to roughly keep pace with the newsletter's ARR when it comes to deploying capital to new investments. Here's how that has been going: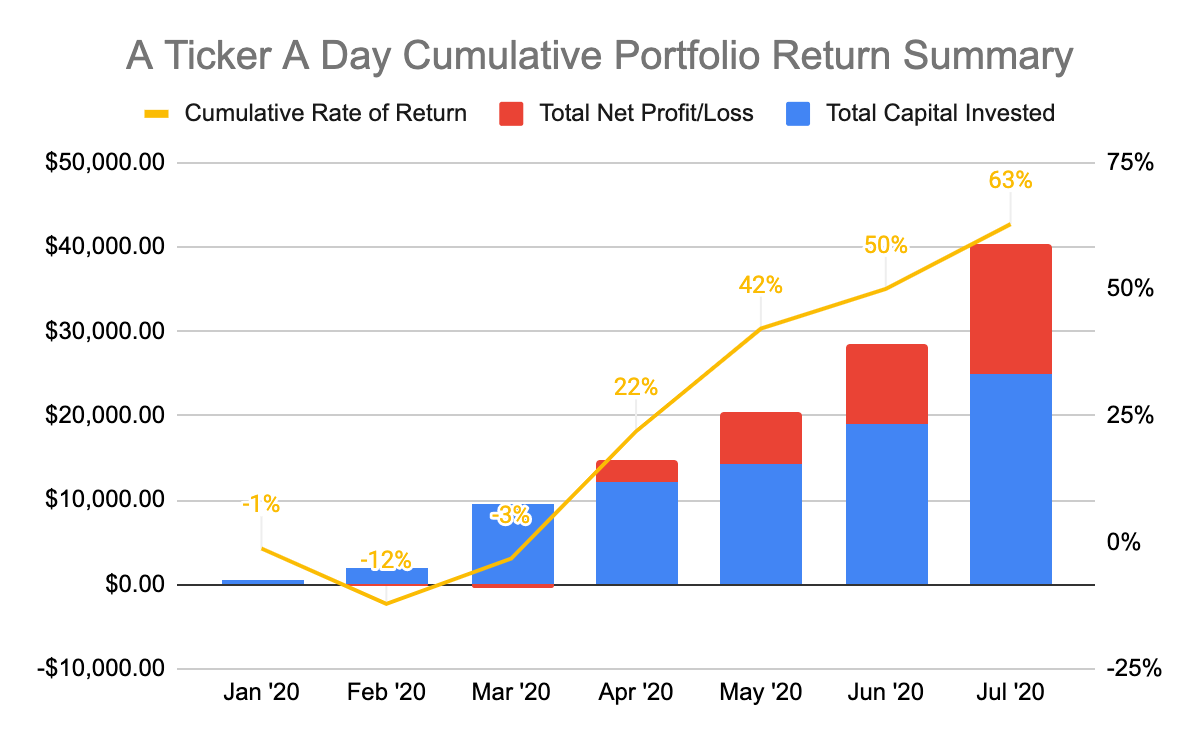 This is the overall result for all my blogged positions. If you want to exclude the opportunistic purchases I made outside the alphabetical list of stocks I am reviewing one at a time, you can see the results below. The ATAD $10 picks are an answer to the question, "do I buy $10 of this stock or the $VTI?" and that portfolio is +26% YTD.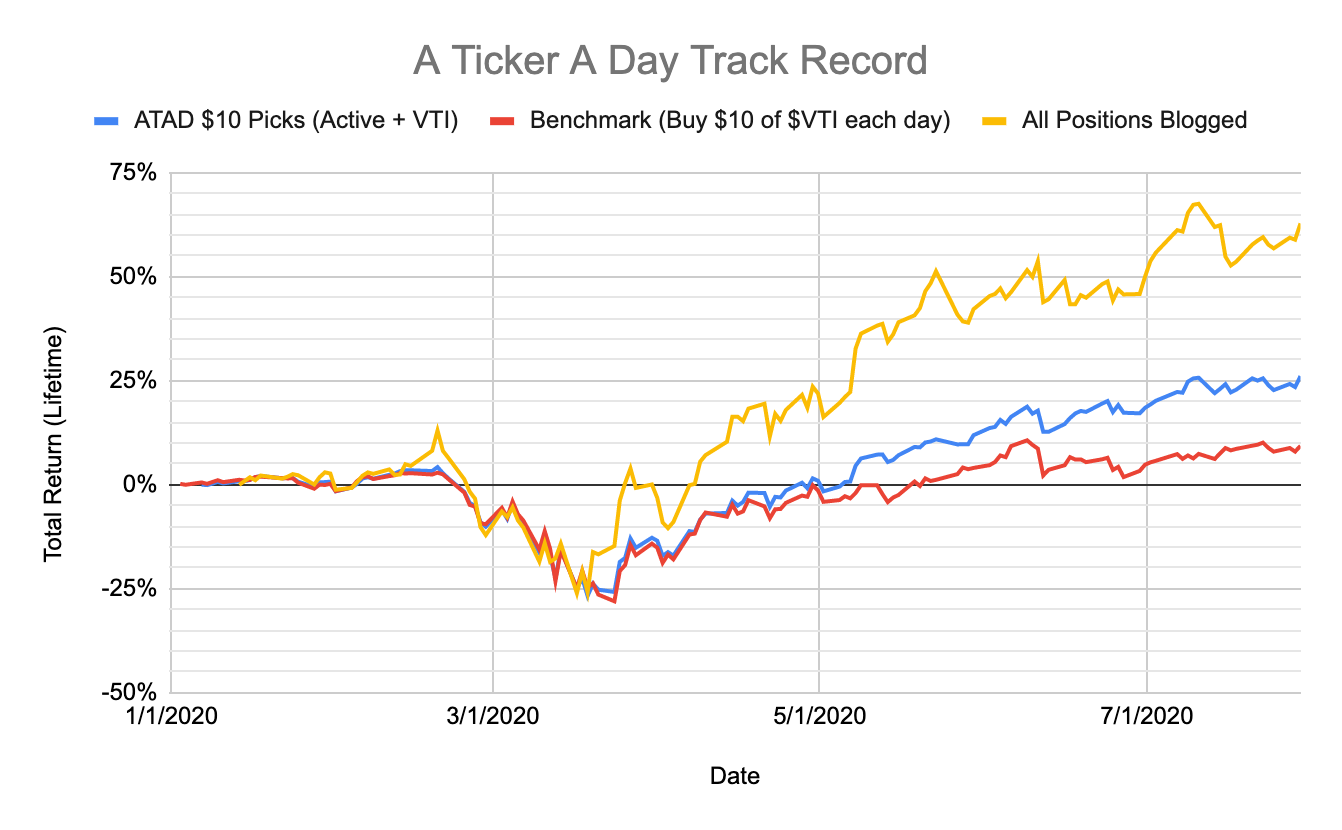 If you're interested in reviewing the blog and podcast archives, including a spreadsheet that details transactions, holdings, portfolio tracking, benchmarking and more you can access these charts and all their underlying data in the Resources for Paying Subscribers.
Plans for Continued Growth
My goals are fairly simple, and focused on things I can control:
Increase free email subscribers at least 10% MoM

Maintain a free to paid conversion rate of 10% or better

Maintain gross ARR growth rate of 10% or better

Maintain an hourly rate of $200 ARR / hour or better

Keep investment pace at or above ARR growth (roughly ~$2K/month right now)

Continue to cultivate my idea of what a good investment decision looks like, with a holding period of forever, and don't overly focused on month-to-month (or even year-to-year) changes in performance.
If I do this, I believe I can continue to grow the ARR of this side hustle of mine to $35K by the end of this year, over $100K by the end of 2021, and surpass my annual salary sometime in 2022 with a total email list of ~18K free subscribers. This all assumes churn stays low, and I don't raise prices.
If I can do that at the current 5-10 hours per week, which I truly enjoy and experience much more as exploration and play than work, this is such an awesome passive income stream! I'm sure there will be challenges along the way, and I look forward to sharing them with readers to get your advice and suggestions.
Thank you so much for reading!
---
Disclaimer: You understand that by reading "A Ticker A Day" you are not receiving investment advice. No content published here constitutes a recommendation that any particular security, portfolio of securities, transaction or investment strategy is suitable for any specific person. You further understand that the author(s) are not advising you personally concerning the nature, potential, value or suitability of any particular security, portfolio of securities, transaction, investment strategy or other matter. To the extent that any of the content published may be deemed to be investment advice or recommendations in connection with a particular security, such information is impersonal and not tailored to the investment needs of any specific person. You understand that an investment in any security is subject to a number of risks, and that discussions of any security published on "A Ticker A Day" will not contain a list or description of relevant risk factors. In addition, please note that some of the stocks about which content is published have a low market capitalization and/or insufficient public float. Such stocks are subject to more risk than stocks of larger companies, including greater volatility, lower liquidity and less publicly available information.
"A Ticker A Day" is not intended to provide tax, legal, insurance or investment advice, and nothing published here should be construed as an offer to sell, a solicitation of an offer to buy, or a recommendation for any security by its author(s) or any third party. You alone are solely responsible for determining whether any investment, security or strategy, or any other product or service, is appropriate or suitable for you based on your investment objectives and personal and financial situation. You should consult an attorney or tax professional regarding your specific legal or tax situation.